About Autonomy
0n the 18th of September 2014 the people of Scotland got the chance to vote over the future of Scotland and also over their own and their descendants future. Besides the significant history of Scotland's wins, tries and fails of independence from England, this time it was more about the social and economic needs of the Scottish people.
For documenting this very important historical event Sebastian Wolf chose to head out for 3 weeks to the most northern islands of Scotland, the Shetlands. This group of islands is sparsely inhabited and has, due to the geographic position, a rough weather what, in combination with the typical coastline and landscape, gives you automatically an authentic feeling how it would be to live in this certain place. This live is very much demanding on these geographic factors but also gives a chance through it very flourishing fishery and growing oil–industry. Despite that society is facing a lot of unemployment and problems due to poverty and social inequality. In addition, the remoteness and the following loneliness have big influence on the behavior and psychological situation of many inhabitants. All this and the big difference to the rest of Scotland/ UK made the Shetlands to an interesting and special place to document the demands of the inhabitants.
In the book "AUTONOMY" Sebastian Wolf shows both, the landscape, the live of the inhabitants in general and the work and live of the pro–independence campaigning group "YES Shetland". Visually, these different parts are shown in observing and distanced land– and cityscape photographs, to give an impression of the local live, documentary photographs of the campaigning group and finally portraits (and interviews, print only but available for reading if interested) of the "YES–Voters". The idea behind all this is to create a link between the place Shetland, its special form of living and what effect the resulting conditions have on the outcome of the vote. — "So, in Shetland we have voted for fear over hope, we have voted to remain in food-bank Britain, in austerity Britain, with a Tory government ably supported by its Liberal accomplices. See you in a few years when the people will demand we do this again, hold a referendum on independence in Scotland."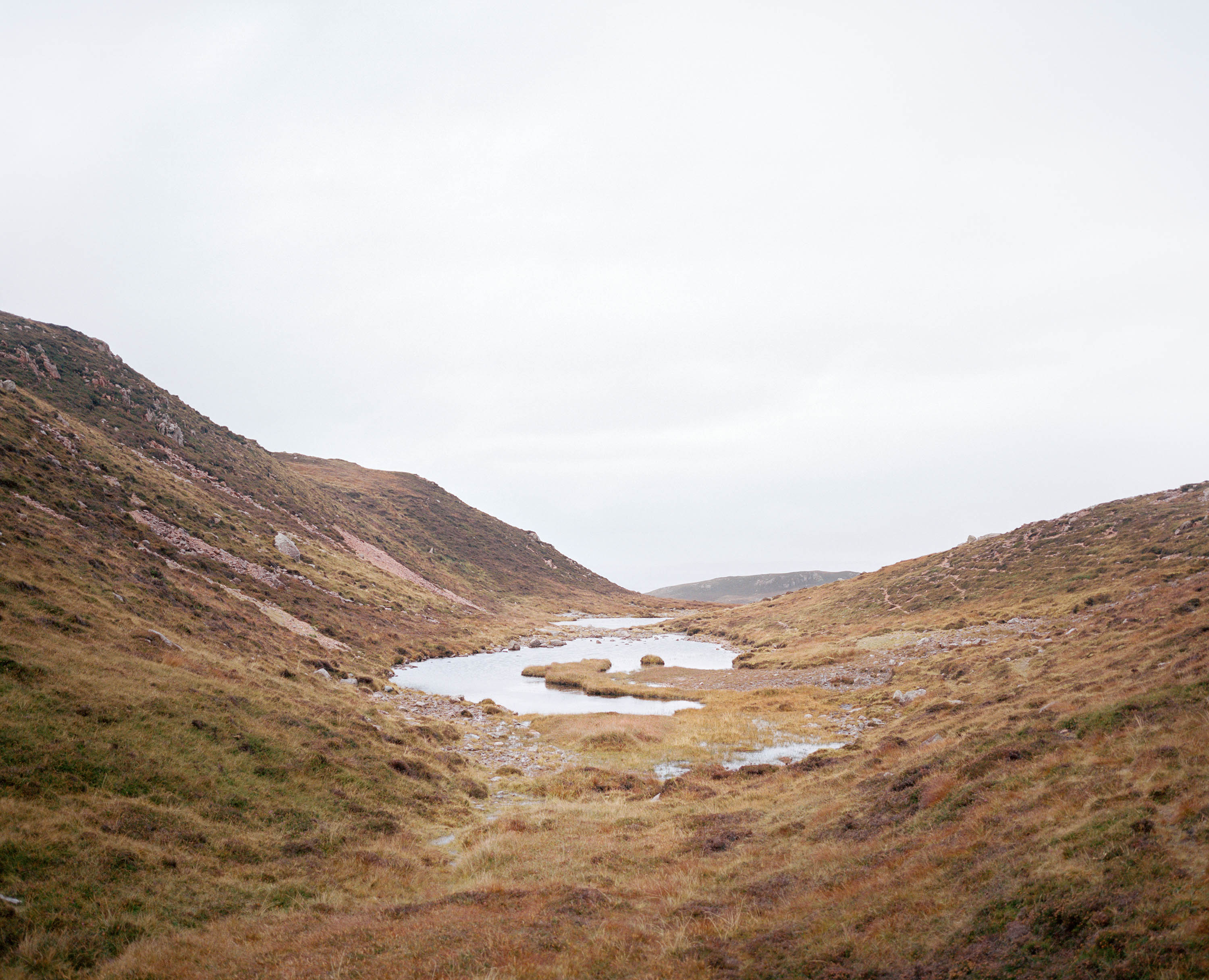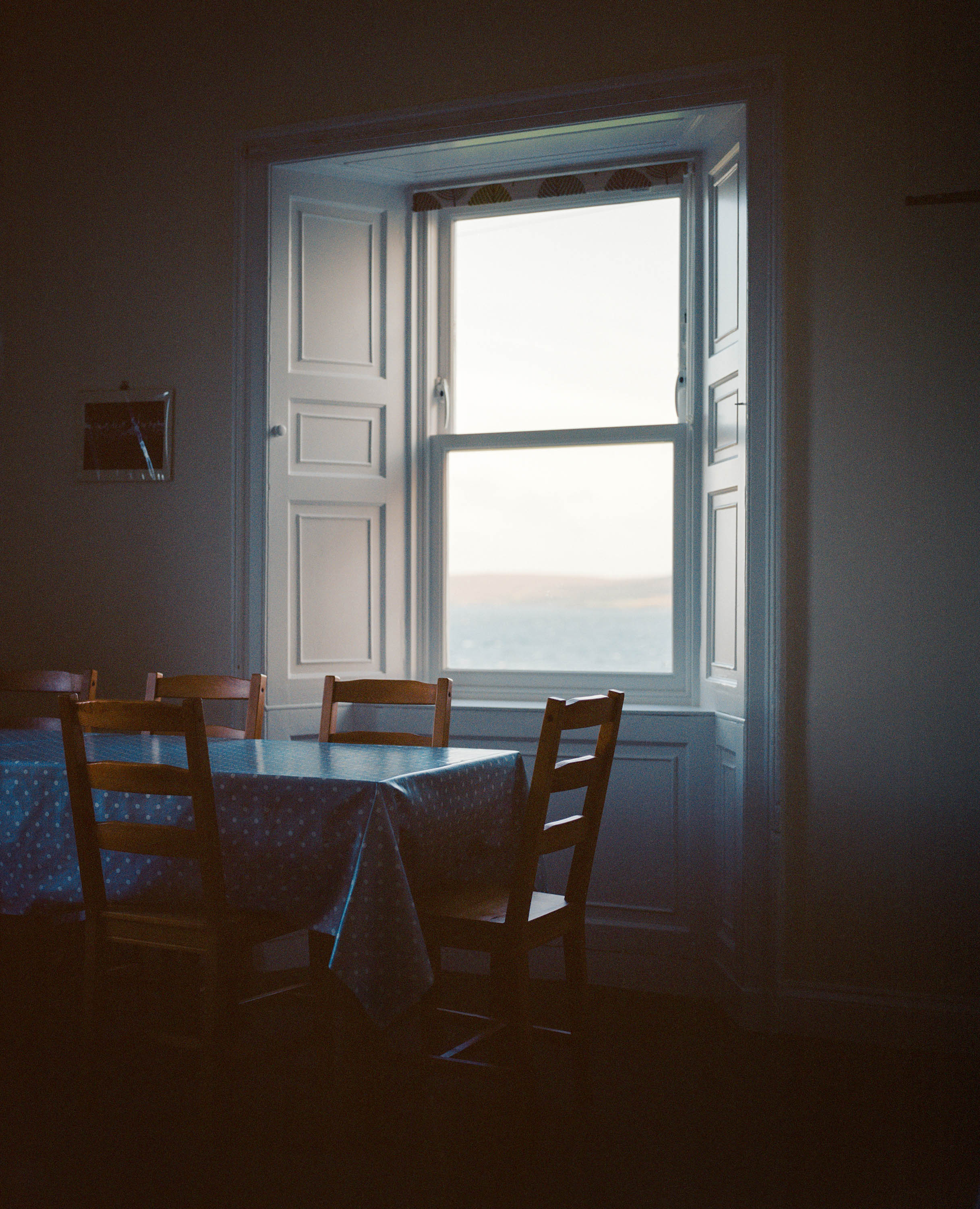 Brian Nugent
I was born near Glasgow and I am 62 years old now. Being retired I had more time to commit to »Yes Shetland« and was their chair for the period of the referendum campaign. I just believe that Scotland is a nation. I think we are entitled to make our own decisions. If we are going to make mistakes let's make these mistakes by our selves — we should be able to make our own policy. I think we will going to carry on with »Yes Shetland«. Once everything has settled down we have a meeting to discuss everything. It could be that we put up candidates in name of »Yes Shetland« rather than in the names of political parties. But that's up for discussion. I think that »Yes Shetland« could develop into a movement rather than a political party. And it may just be that we end up having long discussions and ultimately there is nothing. But there is a lot of good people in the group, not necessarily all in the same political party. Still it will be good to keep the energy and enthusiasm together.








Kenneth Groth
I was born in Shetland in 1960. I am working as a maritime engineer on the inter island ferry between Lerwick and Bressay. What I would like to see is full independence and Scotland looking after itself having a socially more just community and a better administration on finances. If we for example raise our own taxes we can use our own money more wisely in our communities within Scotland. Social welfare is one of the main-points for me.Especially because the conservative government is cutting costs to disabled people and people in social care. My daughter, as an example for a person with special needs, is 25 years old and she had to go to an job interview. What I find rather strange, because her condition does not has changed since when she was born. I am sure, although, we did not get independence this time its not long before Scotland will get an independent country. I will be campaigning from now until Scotland will get independence. And I will not stop campaigning because I think crucial time coming up will be the main elections for the Westminster government and we shall see how well the parties do then.








Leah Irvine
My name is Leah Irvine. I am 26 years old and was born on Whalsay, Shetland, but went to Edinburgh for studying business. I am now working at the Lerwick city council. First I was a »No« voter. But once I did my research, I discovered that Scotland could financially support itself. I didn't see any reason why we should be associated with England anymore, because the conservative government is not very interested in people, they are only interested in money. I also didn't think the way they run their country is very ethical. I watched an interview of one ambassador talking about how the conservative government is being involved in brutal actions against innocent people in conflicts like the Iraq–war. I also don't like the fact that Scotland gets torn into wars just because England overrules Scotland's decisions. I think the things will continue as they are even though the »Yes« campaign got 45 percent. The whole kind of media cover lies down and the conservatives will just carry on the way they are and Scotland will just continue the way it is. I don't necessary think things will get much worse. But it won't get any better.








Chris Dumont
My name is Chris Dumont. I am 46 years old, was born in London and moved to Shetland 5 years ago. I studied biology and environmental diagnostics, but currently I am self employed selling soap and baskets I make from waste. I try to reduce my ecological footprint. Therefore, I don't drive, use a scythe rather than a petrol mower and I try to grow as much of my own food as I can. I think one of the big drivers was the social inequality under the conservative Westminster government. We are the fourth most unequal nation in the developed nations. So I saw a »Yes« vote giving us the power to tackle that social inequality. Another big driver for me is climate change and the environment. The Scottish green party takes these problems seriously and Westminster does not. For example Westminster has voted against certain renewable obligations on the UK energy supplies. Scotland, otherwise, is ahead of the rest of the UK in renewable energies. So I saw that a »Yes« vote is a chance to increase renewable energies and to decrease our dependence on fossil fuels. I think it is going to have to come down to more community actions. People are already becoming more active and I hope that that will continue. There is already a group starting »Let's make change happen« in Shetland. I want to be part of that, because taking local action is the key.








Marie Williamson
I was born in 1960 in Shetland. At the moment I am working as an auxiliary nurse at Gilbertson Hospital, Lerwick.I have just recently bought a boat which is being fixed up. I intend to work a quota, probably next summer. Because I have got a brother who is a skipper and he will help me getting my boat out. It would have been great if Scotland would have its own fishing industry. I like the fact that there is the drive of conservation in the EU and they keep down on us but not to the extend they have been. Originally I was interested in the »Yes« vote because I thought that the fishing industry would benefit from the outcome, maybe coming back into the common market. As I read more into it I realised that the whole society would benefit from that because it's a fishermen based society here. And when I read even more into the referendum I realised that 30 percent of Scotland would benefit of being in the EU. You can't just think about yourself you have to compromise. There was a certain incident to be seen on Youtube where you can see the BBC political correspondent talking lies. But unfortunately half the country don't have the internet, for example older people. We have been exposed as a huge propaganda machine and it's a very great disappointment. I have not looked into politics for 35 years. But now because of the referendum I know so much more that I can't put it back in a box. And so I will be keeping my eyes open and listen.








James John Irvine
I am 27 years old and was born in Shetland. I lived here most of my life. Except when I went to sea, traveling around the world once, a lot around the Baltic sea and many other countries. At the moment I am working at the crab factory up north. But hoping to start a new project building Viking craft. And maybe starting my own business. When I started looking into the referendum I didn't trust either side. So I did my own research. And once you find all the lies, only the truth stands. In fact, there was not that many lies in the »Yes« campaign. Because they said: Yes we are not sure about certain things but here is the potential what could happen. I don't see a bright future for Scotland. Westminster promised us more power but I don't see that happening. Now you have to go through so many things to even get there; where in a »Yes« vote there would have been just power, so simple is that. I really don't know what is going to happen. It is so unpredictable at the moment. For example it is really hard to get a job up here. I was even really lucky to get the job at the crab factory. If it would have been a »Yes« I would have stayed but seeing cuts in the NHS and the budget of Scotland is devastating. All I can say is that there is not very much of a prospect and future for me here in Shetland. I thought about going to Australia or Europe but getting back is no option.








Erik Isbister
I was born and raised on Trondra, Shetland, and working as a carpenter. In the age of 20 I moved to Ireland but returned to Shetland because of the recession. I was campaigning for a chance of a better live. Especially because I have a very deep dislike of the Westminster government and how things are shaping up right now. Since I first started I was interested to convert my own friends. And when I went to the very first »Yes Shetland« meeting I got to know Brian Nugent (chair of »Yes Shetland«), kept in touch with everyone else and did what I could do, trying to get the message out. A way to reach our goal is just to declare independence. Therefore, the plan is to get the majority in the elections coming up next year and in the Scottish election the following year. We then, through international law, can actually declare unilateral Independence. They can't do anything to stop it. I am not sure if there is going to be any further campaigning to do. But we will see after the next »Yes Shetland« meeting. There might be other plans. Personally, I am not really sure how long me and my girlfriend want to stay in Shetland. It's a nice enough place but a quite lonely place.








Marjolein Robertson
I am 24 years old and was born on the west country side of Shetland. But I moved to Edinburgh to do my master degree in archaeology. Now I work and live in Shetland. Over the years I wrote everything that upset me onto my blog. And with the referendum it has been even more so. Because the closer we got to the date of the 18. of September the more passionate I felt about needing a »Yes« vote. And I couldn't sit back, relax and pretend that I
didn't really cared about it. Because I wanted to say how I felt about it. Originally I was a »No«. Especially a year ago when I thought that people who are voting »Yes« are brave-heart–Scottish people and hating England. I think that view I had was very narrow-minded.Though, I kept talking to people who were »Yes« voters and they just kept showing me over several conversations that there is no reason for being ruled by the British conservative government. Because the smaller the government the more power to the individual. That changed my mind in the end. And this is why I really like the group »Let's make change happen« because we have to be united no matter what happens. I think we have to work more with people. Face to face, looking after each other. Maybe that's the most important thing we can now concentrate on.
Saul Day
I was born in Perth in 1089 but have been living in Shetland for the last 23 Years. I'm working as a social worker. To be more specific, I am developing a project, which is for supported accommodation for young people leaving care. For my entire life I have considered myself a Shetlander, a Scotsman, and a Brit — especially as some of my family are English. That posed the question, though: what does this have to do with nationality, and what does this have to do with identity?! Then the penny dropped: nothing, nothing at all.I suppose my journey to Yes is mainly a reflection of the opportunities that may come with independence, but it initially spawned from an observation and subsequent understanding of the fierce reality of remaining part of a crooked union. I recently asked myself: how can anyone possibly support a government that is proposing to squander an estimated £130 billion on the renewal of nuclear weapons, when tens of thousands of children are living in poverty across the country? Is that the kind of country we want to live in? This demand for change led me to campaigning with »Yes Shetland« and »National Collective Shetland« — and I've never looked back since. It would be naive to suggest that independence is the resolution to all our problems – it's not – it's simply the start of something new: a fresh beginning, if you like. I want to live in a country where human rights and equality are paramount. Where public resources are kept from private hands; where spending reflects the needs of the most vulnerable over the eagerness to arm ourselves with weapons of mass destruction. A country free from illegal wars and unjustified military interventions, where people's voices are heard and where democracy is redefined.
Asa Tulloch
I'm originally from Shetland. I was born there in 1997, but have moved all over Scotland. I'm working as cleaning staff at the school where I'm also studying at. I voted »Yes« because I didn't want to lose the NHS. Because when we lose the NHS I would have to fully pay for my medication and I don't want that. It would cost me a lot of money. Money that I could not afford. Having an independent Scotland would be a chance for my younger siblings to not only having a more secure access to the NHS and its benefits — but also growing up in a better Scotland. At the moment I see Scotland as a place England uses for oil supply and everything else we got. So, of course, Scotland could do much better on it's own. I will probably take part in actions »Yes Shetland« will do in future and will try to convince people to vote »Yes« in the next vote. But I will never leave Scotland because Scotland is my home.
Amanda Brown
I am 40 years old and born in Shetland. Where I am working as a staff nurse in accident and emergency section in Gilbertson Hospital, Lerwick. I did some training on Scottish mainland for a couple of years and then came back to Shetland. Through forming your ideas to a nearer parliament that understands what remoteness for a health service is, Scottish independence hopefully means they would listen to us and get our voice heard — like the extra costs and the extra workload. As well as that we would hopefully be able to save money, cutting bureaucracy.And being able to do less of gathering information for the British government than spending time with your patients. Looking at a remote hospital like this it should be able to locate its funds more efficiently. I think Scottish independence means more control of the Scottish future and especially remote areas like Shetland. Westminster is simply too far away to understand what living in rural place as Shetland is like. It's a different way of life. I see how the Tory government in a way is more beneficial than the Labour government. But I prefer our own Scottish government having more common sense and hopefully would manage to get Scotland in a better financial position. I think there will be a »Yes« vote within a decade because the younger generation will then be the majority of voters.
Robbie Mc Gregor
I have moved to Quarf, Shetland about a year ago. I am 63 years old and just retired from my job as a managing director of a company with a large chain of pharmacies in Edinburgh. I have been a member of the Scottish National Party for 50 years now. And my father was a nationalist before me as well. So I am totally committed to the cause. From the beginning until the end. On the one hand, I can see a black future in short term. But we are in a win–win situation. The promises that have been made by the three UK party leaders have to be delivered. So if they deliver we will have almost independence anyway. And if they do not deliver there will be another referendum in a few months or a couple of years. So whatever happens I see a bright long-term future for Scotland. I sincerely hope that »Yes Shetland« will continue because we can be a pressure group to ensure that the other parties deliver their promises they made in the heat of battle during the campaign.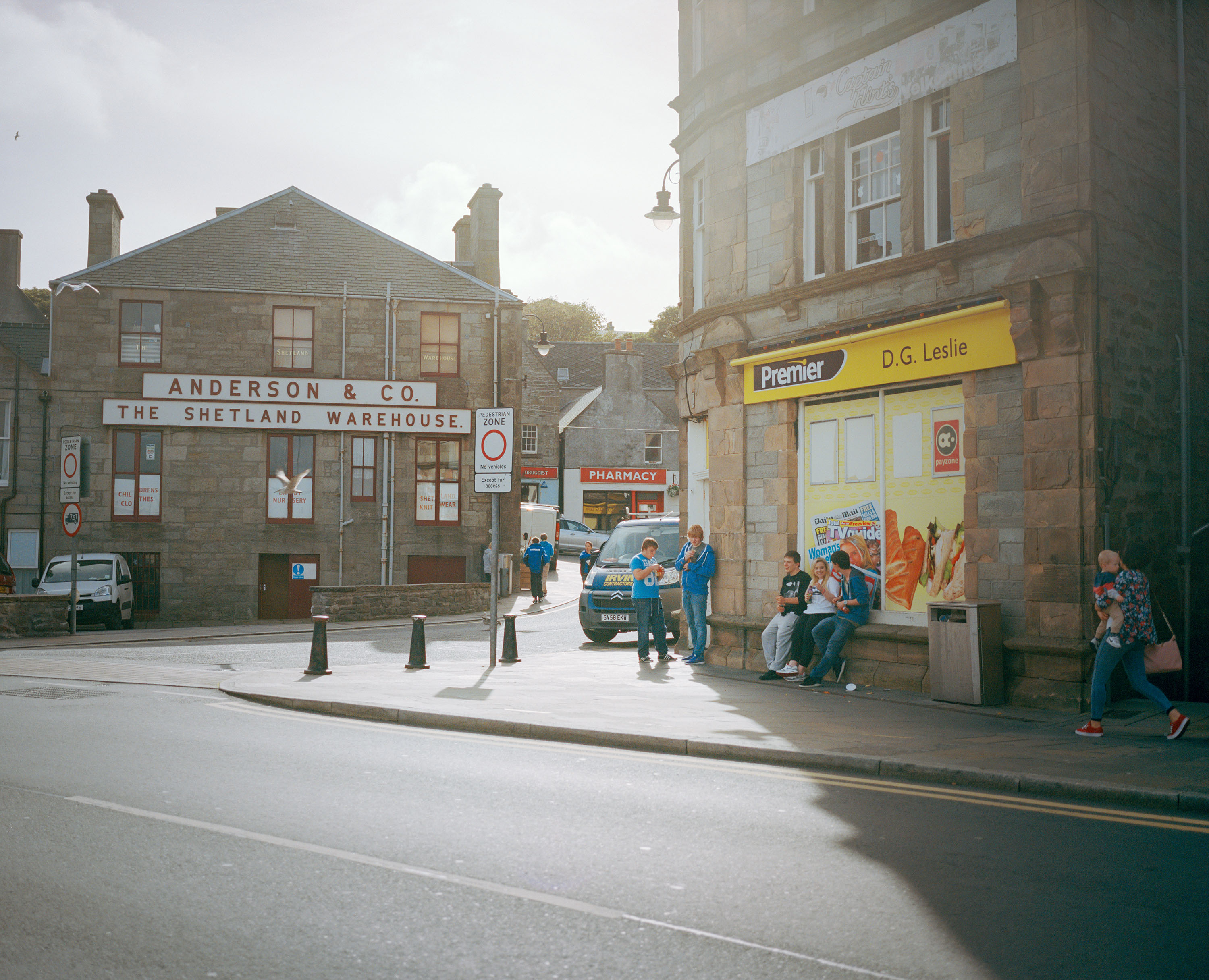 "Thanks to the 5,669 voters in Shetland who voted for hope over fear. Better Together have made promises about extra powers across Scotland, and in particular the promises made to Shetland, time to put up.

Thanks to our Better Together opponents locally for a good natured contest, thanks for not publishing the picture of me having a cup of tea in a No Thanks mug.

So, in Shetland we have voted for fear over hope, we have voted to remain in food-bank Britain, in austerity Britain, with a Tory government ably supported by its Liberal accomplices.

See you in a few years when the people will demand we do this again, hold a referendum on independence in Scotland."

Brian Nugent, chair of "Yes Shetland", after the vote



---
© all content 2019 / +49 1636825009 / photo.sebastian.wolf@gmail.com / Rellinghauser Straße 162, 45128 Essen