A colletion of short stories,
strange and yet familiar.




—


Seeing couples meeting in heavily vegetated parks, taking shelter underneath umbrellas even though it is not raining is a common sight.
These unmarried couples have to go to special places to enjoy their intimacy, hiding from the judging eyes of the society they live in.
Where the media increasingly reflects the progressive western lifestyle, public life is still dictated by the conservative worldview of traditional Burmese society.
Regarding what a young Burmese man told me, we all might be more similar than expected.
"Happy wife, happy life."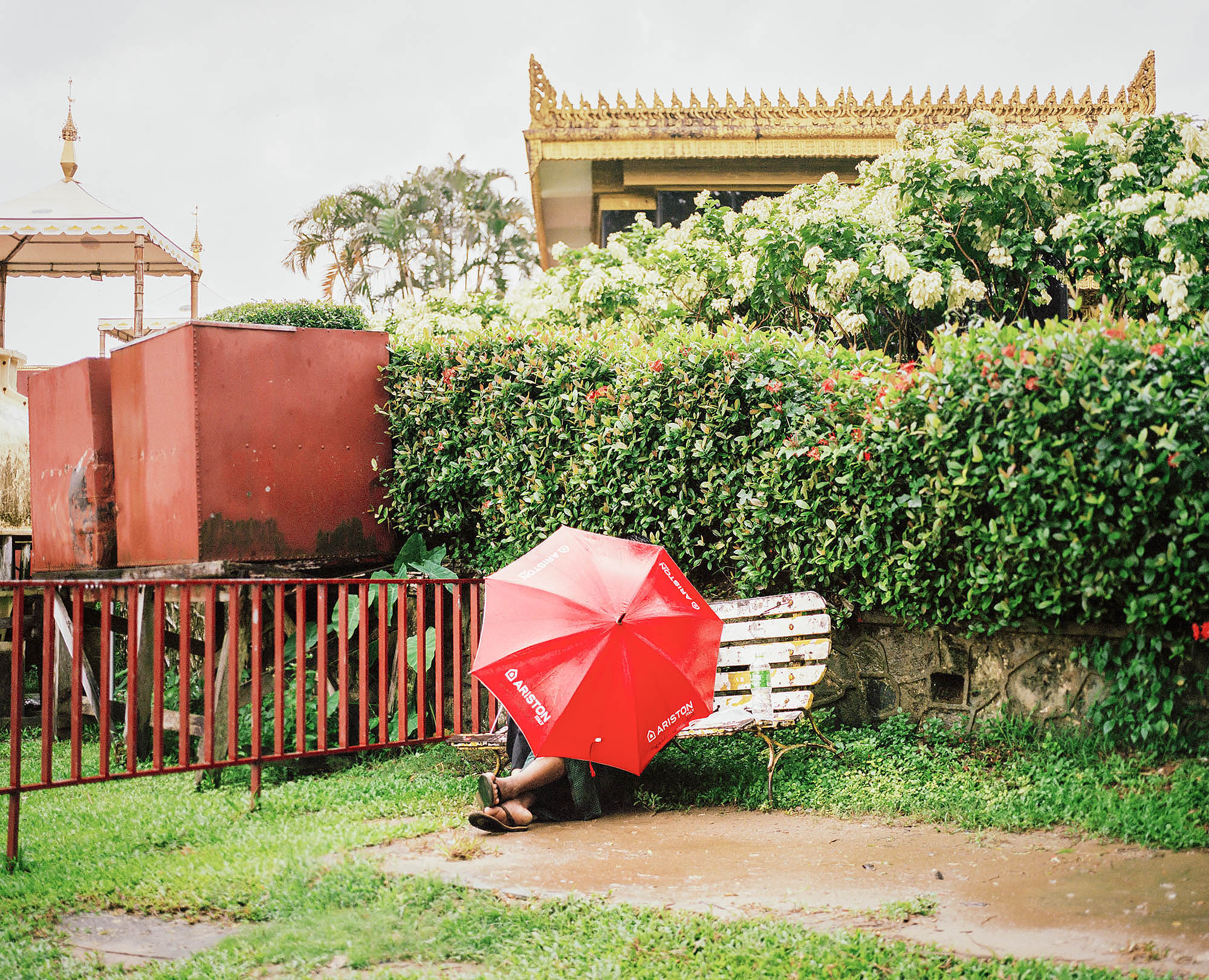 —


When the young women on the stage switched from singing to a lightly clad fashion show there was no doubt that this is not a regular talent show.
While the majority of the predominantly male audience were merely enjoying the performance, some were clearly looking for something more and gradually the women became company for some of the men.
They were drinking and snacking together but there was little sign of joy on the young women's faces.
When there was only one girl left on the stage we decided to leave.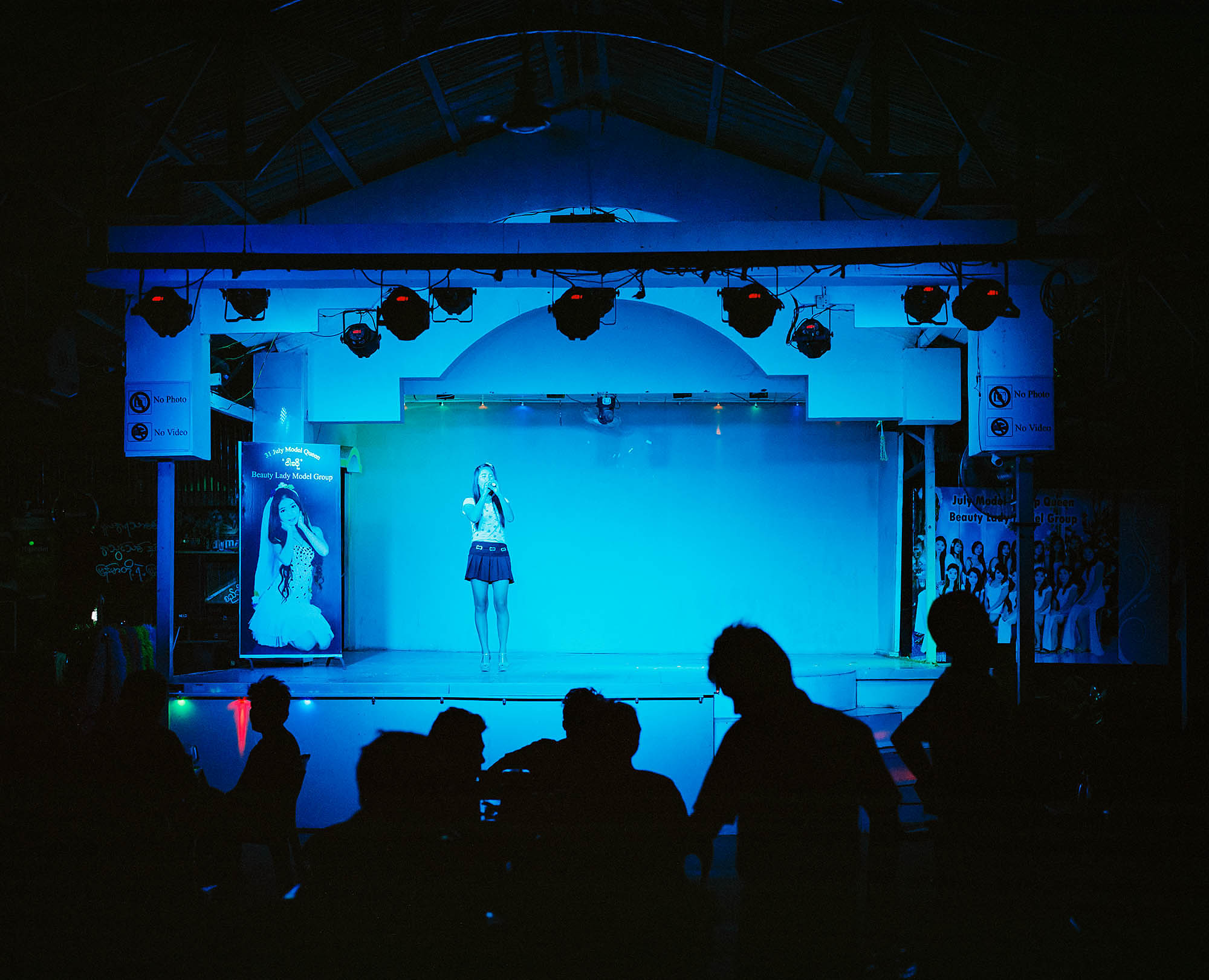 —


There were many nights I could not bear to stay put.
Sometimes it was just a very distinct but also unkown smell or sound coming from far away urging me to investigate the origin.
Spending many nights wandering around on the endless search for moments I was afraid to miss became a compulsion.
Accepting that I can't see and experience everything was hard. But at the same time it was a relief from this burden.







—


It's hard to describe the exceptional hospitality of the Burmese monks in a few words.
Their curiosity in western culture, their interest in learning about a place they may never visit and their unswerving respect for the other was unfortunately not always based on mutual interest of their guests.
I hope that the misbehaviour of a few won't spoil this curiosity and turn it into reluctance.








—


I still remember one morning climbing a small pagoda, listening to the waking birds, while the golden sun warmed my skin as it rose.
In the far distance I was able to spot the hot–air balloons fully loaded with tourists which I had first recognised as a disturbing background noise.
Being thrown into unpleasant situations where I was played upon made me more suspicious and dismissive of strangers than I would have liked to be. I felt sorry for the way I acted in some situations.
Back then I desperately concluded one day "Bagan sucks".







—


Attracted by noisy music and opaque Burmese sayings I found myself midst a Buddhist funeral.
The mere presence of my camera felt disrespectful, voyeuristic and disturbing at the same time.
Contrary to my stance as a photographer I was invited, almost urged to document what I had initially refused to photograph.
I left the ceremony puzzled whether I had acted correctly, photographing the funeral of a young woman that I had never even met.







—


Entering this place was unexpectedly easy. There was no fence to hop, no guard to convince and the workers didn't seem to care.
What from far away had looked like an ant trail through a dust filled valley turned out to be something weirdly similar.
As the thick white dust stifled my breathing and the sound of trucks and heavy machinery became deafeningly loud, the whole extent of the place became visible.
The hard and dangerous manual labour in such rough unforgiving terrain was sadly exactly what I was expecting to find.
Right next to where the rocks were crushed by screaming machinery or bare hammers, families had built their homes. Homes which provided shelter for the young children running around.







—


I can still hear the sound of metal jangling and feel the bass deep vibrations through the ground I was standing on.
It was hard to tell if this place was meant as a repair workstation or if this was the place where old ships find their peace.
Seeing how loosely the heavy ship parts were being secured while hanging overhead made me question if leaving this place might not be a good idea.







—


Seeing this place with my own eyes and experiencing the desertedness clearly made me understand it's reputation.
Every building, park or other supposedly public space resonated with void. It felt odd standing there on my own in places that were originally erected for thousands.
Now seeing the facade crumbling made me question the meaning of this city's name "Seat of the King".
Was this just another large scale vanity project, an emblem of the military regime holding on to their power.







—


Within the maze of deserted streets, camouflaged by tall, wild tress were curiously abandoned buildings.
A few years ago people had left this place behind and it was as if time stood still.
As I learned later from the families still squatting in these buildings, the whole area was built to be the Burmese silicon valley.
Besides that no one ever invested in this area and they probably never will.







—


Even though my travel destinations in Burma were hundreds of kilometres away from the coast, the effects of flooding were still noticeable.
In some parts entire housing districts were submerged and the people were forced to live on the streets.
Wandering through one of the improvised housing districts I felt sorry and that my presence was inappropiate to the people who had lost everything.
This day I left without taking a single photograph.




---
© all content 2019 / +49 1636825009 / photo.sebastian.wolf@gmail.com / Rellinghauser Straße 162, 45128 Essen